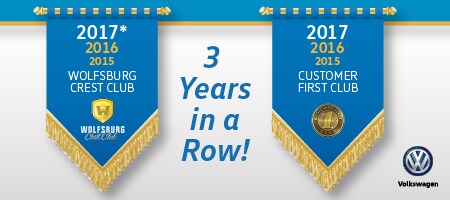 At Sheehy Volkswagen of Springfield our customers are our number one priority. We are constantly working hard to ensure that all our loyal customers are as comfortable as possible and treated with the utmost respect whenever they visit our store. We understand that our success wouldn't be possible without all our amazing sales, service and parts customers, which is why we are thrilled to announce that we have been awarded the Wolfsburg Crest Club and the Customer First Club Award! This is a huge accomplishment as only 13 Volkswagen dealerships in the U.S. have been given both of these p

restigious awards.

Wolfsburg Crest Club Award
The Wolfsburg Crest Club Award is no easy award to win! Dealers meet impressive sales, service and parts benchmarks as well receive outstanding customer reviews, and all employees must have the Volkswagen Academy employee certification. Only the best of the best can achieve this award and we are thrilled to be able to call ourselves Wolfsburg Crest Club Award winners for the third year in a row!
Customer First Club Award
The Customer First Club Award is another distinguished award that we are proud to have won this past year. This award is based on all our customer surveys and our overall customer satisfaction. As winners of this award, we are so happy that we were able to meet and exceed our customers' wants and needs and look forward to providing even better customer service in the coming years!

From everyone at Sheehy Volkswagen of Springfield, we would like to thank all our outstanding customers for helping us to win these two amazing awards for the 3rd year in a row! Every single one of our customers are incredibly important to us and we promise to continue providing excellent customer service in the years to come! And if you haven't had the opportunity to experience our exceptional customer service, make sure to stop by our dealership! We'd love to meet you and help with any of your automotive needs! We are located at 6601 Backlick Road Springfield VA 22150 and open Monday-Sunday.