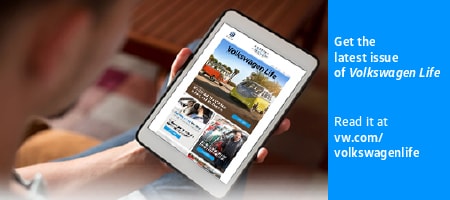 Are you interested in learning more about the 2018 Golf Family or how to get $1,000 cash back on your next VW? Did you know the VW bus is coming back, and it's going to be electric? Those are just a few examples of the
fun & helpful Volkswagen news & information
that can be found in the
VW Life magazine!
The VW Life Magazine is
your one stop shop for all things VW.
It's full of fun stories that match up with every interest! The best part of the
VW Life magazine
is that it is purely informative. There are
no offers or sales pitches,
just interesting articles and outstanding photos about your favorite brand.
If you've bought or leased a
new,
used
or
certified pre-owned
Volkswagen in the
past 4 years
you are eligible to receive a copy of Volkswagen life via email every time a new edition comes out! If you haven't bought or leased a
new,
used,
or
certified VW
in the past 4 years, don't worry, you can still read the VW Life Magazine! Simply click
here
and you will have total access to
VW Life magazine!
Here's what you can look forward to reading about in the latest fall edition:
It's Official: The VW Bus is Back, and it's electric
The People First Warranty — Volkswagen Unveils the New Industry Leader
Volkswagen Sell Down Event — $1,000 Cash Back (see all offers)
The 2018 Golf Family is on its Way!
Good Works, Amplified: When VW collaborates with employees and nonprofits to serve their communities, everybody wins
Artistic Vision. Astonishing Images — a blind photographer shoots the Arteon
Inside Gabriel Iglesias' Dream VW Collection
Check out the latest VW Special Edition — and have a look back at other iconic models
Winning an Atlas was a Dream Come True